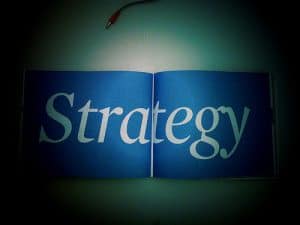 I've been in the career industry for 30 years. That's a long time; long enough to see snail-mailed paper evolve into predominantly Internet-based submissions under scrutiny by search engines, scanners and yes, humans. I became a career writer and coach because I love helping great folks find, get and keep work that fits them. I am a career writer, coach and strategist. Strategist. Strategy. It's key in your job search campaign. And in your resume.
Strategy = standing out
Think about it. We work very hard in high school or college to learn skills, get good grades and earn accolades that separate us from the rest of the pack. We can then continue to climb the ladder. So, when it comes to resume writing, why would we want to blend in with a laundry list of experiences or a one-size-fits-all assembly of everything we have done or could possibly do, absent relevance to focus or value? If Target were the same as Sam's Club, how would we differentiate between the two? Don't you want a marketing document that helps the potential buyer—the employer, distinguish you from your competition?
Strategy = selling you
What is resume strategy? It's sitting down and thinking carefully about the message you want to convey. It's so much more than history. Who's your target market or audience? What do you want to do for them? If you don't know, don't write yet. When you know, shape a message that will sell.
What does that target audience (employer) need? Feel their pain by learning as much about these target roles and organizations as you can.
What is your value relevant to that pain? Those needs? Those requirements?
Nancy's a sales whiz whose message is how much money she has made for past employers. Brian's an IT executive who's positioned himself as a change agent and trailblazer. Marge is an RN whose message conveys holistic, compassionate, skilled care.
When thinking about your strategic messaging around value relevant to their pain, consider the following elements of your resume:
What your headline says
How your core message of brand and value is immediately communicated
What evidence backs it up, i.e. metric-driven successes, skills, academics, paid or non-paid experience, testimonials, or other
Strategy = setting the bar
I recently served a second year as a judge with Career Directors International's Toast of the Resume Industry (TORI) awards, an international competition now in its 11th year. In prior years, I was a competitor, honored to win multiple awards in several resume categories. My last entry in 2010 was nominated for the New Graduate resume category, and includes strategy at the end. The career industry is always changing. Those resumes that win TORIs are those that are current with today's best practices in formatting and writing content. Key to being considered for a TORI, is the strategy explanation provided by the writer. The TORI candidate must explain the whys of the whats in content and formatting. Did the client have a unique challenge? There are as many situations as there are individuals. The strategy is judged very closely.
I also sit on CDI's credentialing committee for resume writers. Part of the process is submission of samples WITH strategy as to the whats and whys of the writing. In an arena where resume writers are developing and sharpening their talents to sell their clients in a competitive, technology-driven world, strategy is a non-negotiable.
Strategy = success
Strategy is crucial to your resume and job-search campaign overall. If you're using executive recruiters, your resume might be different than one being uploaded to a job board. If you're a seasoned CFO, your resume and search strategy will likely be different than a new marketing graduate looking for an agency job. How you strategize your campaign after layoff with a generous severance package will no doubt differ from one where you never saw it coming, have no package and just put your second child in college. A resume and search geared to the international market is going to be different from one within 60 miles of your hometown.
It serves you well to have a well-thought-out strategy in your resume and other career communications; and in your search. Setting and following a strategy for your resume (and search) will ramp up your success. One of my career mentors, Jay Block, referenced the importance of taking a lesson from the advertising world. "The same commercial for Chevy trucks is used in Boston and New Orleans, with one important difference. A Boston accent sells more trucks in Beantown, and a southern accent sells more trucks down South."
Strategy is a game changer. It will give employers a compelling reason to want you over Jane or Jim.
Photo: stefan.erschwendner