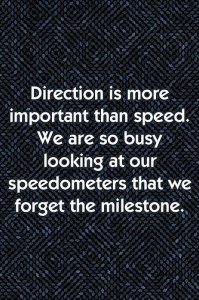 What are smart job search milestones? Milestones, as defined, are a series of numbered markers placed along a road or boundary to provide reference points. They reassure travelers that the proper path is being followed. I am often contacted by job seekers to write a resume. It quickly becomes clear that this is their starting point. The resume is often the cart before the horse . After further conversation, the typical question posed to me is:  "How do I conduct an organized job search?" These job seekers are asking for help with a system or process—something to give order to what seems abstract. Here's a milestone approach for the job search around three areas: Appraisal, Execution and Transition.
Smart Job Search Milestones: Appraisal of opportunities
Study your professional setting. Research until you are able to summarize the current state of your profession and industry, including the key trends shaping the future and how these trends will directly affect your career goals.
Determine your professional goal. Be able to state your professional goal in a phrase or sentence so that the kind of work you are seeking is clearly understood by people inside and outside your profession.
Define your target market. Your objective at this point is to determine clear criteria for the group of organizations you plan to pursue (industries, size of companies, preferred organizational culture and geographic boundaries). Research and prepare a prioritized target list of 25-50 organizations you will pursue (at least initially).
Create Your Communications Strategy and Collateral. You now want to craft marketing pieces that will appeal to the hiring folks in your target market. This covers the resume, letters, exit and positioning statements (any pitches), success stories—anything you are going to present orally or in writing. Don't forget business cards.
Smart Job Search Milestones: Execution and tracking activities
Gather ongoing information about target organizations. Now you want to find people (preferably insiders) who are knowledgeable about the organizations. You continue to conduct background research so that you can relate your value (solutions) to their needs (pain).
Convey your message to others. Ideally, you will have job-search related conversations (you talk about what you want and what you offer) with 15-25 people a week, every week, collecting information about your target industries/organizations and identifying hiring managers.
Talk with those hiring managers. Now we're talking about informational interviewing. You will at this point be prepared to answer difficult questions, you have your own questions prepared to ask, and you are having conversations with at least two hiring managers a week.
Assessing your search methods. At this point, I'm assuming you've been responding to appropriate jobs or ads posted online or elsewhere. I'm also going to assume (because you should be doing this), that you're on LinkedIn and actually using the site to be found and find others. Depending upon your situation, you may benefit from using a recruiter or few. You should not only be visible online, you should be portraying your professional brand and value. All the while, continue to talk to hiring managers. Remember that many opportunities are not advertised, but are hidden.
Smart Job Search Milestones: Managing transition
Interview, cultivate offers and negotiate. When you have found a position you want, work on negotiating and accepting it.
Transition into the new position. Your goal here is to thoughtfully step into the role, with the goal of receiving significant positive feedback in your first 90 days; and a better-than-average first performance review.
Having smart job search milestones allows you to set a goal, a plan to achieve that goal and steps to make it happen. Each marker is important. Monitor your milestones to maintain focus and forward movement. Notice what's working and do more of it. Notice what did not work and do less of it. And take satisfaction in the fact that you're moving toward that goal with a systematic approach!
Photo:  Patrick Hoesly