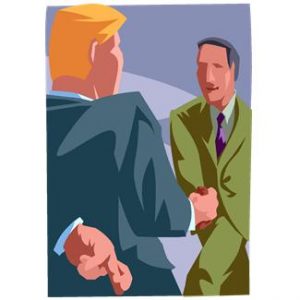 Nice guys do not always finish last. Your integrity influences hiring decisions. The Corporate Executive Board in Arlington, Virginia recently surveyed 500,000 employees in over 85 countries. The study found that companies identified as having high-integrity cultures are 67 percent less likely to observe significant instances of misconduct, such as accounting irregularities and insider trading, than companies with low-integrity cultures. What does this mean to the job seeker?
Workplace Integrity: Companies want it!
New York Times columnist Adam Bryant interviewed more than 70 CEOs and other leaders in his book, The Corner Office: Indispensable and Unexpected Lessons from CEOs on How to Lead and Succeed. Bryant wanted to find what he calls five essentials for success; qualities that most leaders share and look for in people they hire. Legendary investor and philanthropist Warren Buffet's top priority in hiring was "people with integrity". It ranked high with others as well.
There was a time when a job candidate's integrity was taken at face value without confirmation. Times have changed. Employers are asking retained search firms to be more careful and more thorough in conducting reference checks and background investigations. Consequently, Cornerstone International Group, a global consortium of more than 100 boutique executive search firms, added an entire division devoted to background checks, including a full-service "Private Eye" company. Many companies use pre-employment assessments to gauge a candidate's trustworthiness and integrity.
Workplace Integrity: It's a day-to-day thing
As defined, integrity is a concept of consistency of actions, values, methods, measures, principles, expectations and outcomes. In ethics, it is regarded as the honesty and truthfulness of one's actions—the opposite of hypocrisy. Who you are deep inside is evidenced by what you do on a daily basis. It's about following through on your word, being above reproach and honorable with your actions. This creates trust, respect and professionalism. It does not matter whether you are the night custodian or the CEO; living with workplace integrity impacts not only your long-term professional development; it also enhances the overall company culture—it's a domino effect!
Integrity: How to show you're a candidate who has it
Throughout your job search, how do you convey the integrity that you and employers value—and people in general admire?
Resumes and career traditional and online communications. Don't embellish your skill sets, experience or credentials. This will come back to bite you if hired. And even before that, you might regret it. Today's background checks are thorough; false or inconsistent information will remove you from the pool of candidates. Do emphasize any background that highlights your integrity.
Weave integrity into your networking. Keep your word. If you say you will follow up, do it. Be accountable for everything you say. Don't take advantage of networking relationships. Pull your weight. Give back to those who try and help you—every chance you get. Show appreciation and thank people.
Show it holistically. Be up front with recruiters on what you want in salary, job and employer. Don't waste their time with an "I'll take anything" approach. Similarly, don't apply for jobs you're not qualified for. There are people behind the systems, trying to hire the best fit. Respect their time (and your own). Never, never, never say anything negative about past employers or contacts. Negativity has no place  in the job search. Period.
One of my favorite stories of integrity is about Babe Zaharias, a champion amateur golfer in the 1932 Olympics (later professional). She once penalized herself two strokes when she realized she accidentally played the wrong ball. "Why did you do it?" asked a friend. "No one saw you. No one would have known the difference." "I would have known," answered Babe.
As a job seeker and candidate, your integrity matters 24/7. It extends above honesty. It means doing the right thing regardless of circumstances or consequences. It means doing the right thing even if no one is looking.