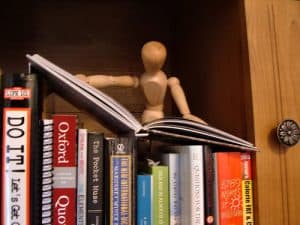 If you're in a job search and have defined your target market, the next step is to gather information. Knowing what is occurring in that marketplace and pinning down the people and activities involved helps you identify the right people to talk with: the people who have the power to offer you your next position.
Client story: Savvy researcher Lee
Born in China, Lee Yang (name changed to protect identity) had experienced a lot of changes in his life. Trained as a physician, he served as a medial liaison with the Republic of China Navy (ROCN), emigrated to the U.S., became a citizen, and settled in a West-Coast, mid-sized town of about 60,000. There he taught pre-med courses at a college, worked at a clinic and most recently, served as a Director specializing in quality and continuous improvement for a managed healthcare organization.
None of this – or maybe all of this – prepared him for the latest career change when his Director position was eliminated in reorganization. When Lee first approached me for career transition coaching he, by his own admission, had no clue as to where to start. A soft-spoken, reflective person, he was worried that he had no network and very few professional contacts, as he said there were few opportunities where he was living. But he loved research. He got going on finding how to market his talents and experience and to whom.
He first targeted and pursued HMOs, wellness organizations and public agencies. Lee's marketplace research led him to narrow his search to medical director positions for large employers with employee benefit programs. Through LinkedIn, he discovered a little-known professional organization of medical directors in large companies, and then sent emails and snail-mail letters to the members. Getting quite a few responses to his surprise, he followed up each with a phone call, asking some great questions:
How did you get into this position?
How did you help your company or business understand your value to them?
Do you know of other organizations that might be interested in a medical director; and might be primed to explore the option?
Lee voraciously read every relevant Web site and professional journal he could find. He found an online networking group for physicians, as well as information on medical symposiums and conferences. He went to those he felt would be the most beneficial. He was able to attend two of them as a guest of those he had previously reached out to in his letters and emails.
Starting from scratch, Lee gathered an impressive pool of information about his marketplace that led him to his current position as medical director for a global food company's workplace wellness program in Minneapolis. Ever the consummate researcher, before accepting the position, Lee researched statistics on the higher cost of living in the metropolitan area. Doing his homework paved the way for negotiating a very nice compensation package.
When is it enough research?
Shoot for having a continual stream of information about target organizations from people, preferably insiders in the know. Part of the deal should be you identifying decision-makers, getting enough background information to speak knowledgeably about your targets, and correlating your value to their needs. As you collect more information and refine your list, you'll no doubt add or delete organizations. Really, it's an ongoing process. It doesn't end until you land; and it's not a bad idea to at least intermittently continue to research so that you keep a pulse on what – and who – the players are should you need that information again.
In speaking with Lee shortly after he started his new job, he shared with me a favorite quote, one that "motivated me through the process," he said.
Research is formalized curiosity. It is poking and prying with a purpose."
Photo: Viewoftheworld