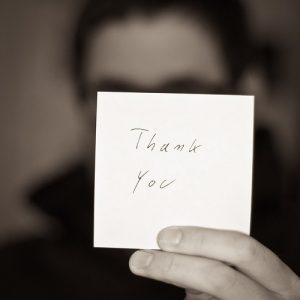 There have been pieces written for years on the value of the thank-you note. It's not new. Yet, I talk with folks on a daily basis involved in the job search mix. Those who interview candidates. Those who help candidates. Those who are the candidates. It amazes me but it's true; many of those  people in a job search still do not send thank-you notes.
I come from the age where thank-yous were an ingrained etiquette. How can you expect the interviewer to be excited about you if you don't follow up? More importantly, if you don't, you miss your chance to throw your name in front again, reiterate something you wanted to say more about and show your excitement. And here's the deal. I haven't done an official survey, but I can tell you that in 30 years of working as a career coach, I hear all the time from hiring decision-makers that one of the top reasons people don't get the job (or even final cut) is because they didn't appear to be that interested. Can you say disconnect?
So, a thank-you note or card is probably one of the most important tools in your kit. They are a must post-interview. But it's more than that. There are (or should be) a host of players in your job search or career transition. That's the gist of support teams and networking. Thank-you cards or notes make people feel good. They let people know you appreciate the time and effort they spent helping you. Someone who receives a thank-you is more likely to keep an eye open for you than someone who does not.
How?
Today's technology says no excuses. How much time does it take to send a text or email from your smart phone or computer? Do that. I believe you should take it a step further. Thank-yous are more personal than any other job search tool and express your appreciation in informal language. While it is not a great idea to hand write any other job search communications most typically, it is good for thank-yous. I have never once, in all my years as a coach, heard someone complain for having received a hand-written thank-you. There's a huge impact from writing in a world dominated by bullets, fonts and digital speak. Just one word of caution: write legibly. But it spews thought and time; it's all good.
Who?
Quite simply, send thank-you cards to people who help with your job search.
Employers you meet or speak with on the phone
Contacts who give you company and employer names
Friends who let their friends know you are looking for work
Organizations who help you in your search
Anyone else who helps you with your job search
Samples
With handwritten notes, it's going to be short and meaningful. Here's the gist through a few examples:
Dear Mr. Roberts:
What a productive lunch we had Wednesday! It certainly has helped in my job search. I contacted three people you referred me to and have meetings with two of them next week. Many thanks for your help!
Jane Doe
***
Dear Nancy,
Thanks for the time you took from a busy life to discuss your company and its current reorganization post acquisition. Your eagerness and enthusiasm tell me Widget Company has engaged and talented people. I will definitely stay in touch!
Jane Doe
***
Dear Mark:
Your suggestion and guidance via the Brass Street Job Club are so appreciated. I feel more confident in my ability to obtain the right fit in my next transition, thanks to your help. I am open to further suggestions and contacts, and of course look forward to staying connected! If I can help you down the line, please holler!
Jane Doe
***
Dear Jen:
I know this may seem silly with us being such long-time BFFs, but I wanted to tell you how much I appreciate your helping me find my next job. Friends like you don't come around often. I treasure you.
Jane Doe
The Gist
Resumes, business cards and thank-yous are some of my favorite tools in the job search. Use them wisely and generously. The thank-you more than anything. There can never be too much thanks. Say it in writing. Say it in person.
There's a great quote (author unknown). "Hem your blessings with thankfulness so they don't unravel."
Photo: Ben Fredericson