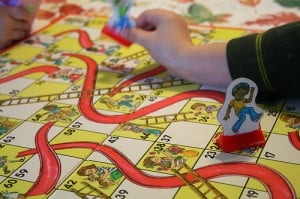 I spent yesterday with my two granddaughters. The girls and I spent a full day enjoying outdoor and indoor activities. By successfully distracting the two-year-old with more age-appropriate pastimes, my seven-year-old granddaughter and I were able to get in a couple rounds of Chutes and Ladders, the classic game I played in my own childhood. For those of you who know me, you won't be surprised that I thought of an analogy to careers. Sometimes you climb a ladder of forward movement; sometimes an unlucky spin has you sliding backwards.
Does it have to be rigidly up and down?
While upward and downward movement seems the natural parallel here, career movement is of course a little more complex than this board game. Does hitting a chute with some descending movement really set you back? Or is it all a matter of places of possibility?
What if chutes signified the linking and shifting of knowledge from what you've done before? And what if ladders embodied doing something different to expand your skill set and to offer you more choices in the future?  What if the "rules" were that
Chutes made ladders possible?  You are allowed to extract from your experience that makes you relevant and allows for you to develop in new areas.
Ladders facilitated chutes? Every single new experience and new skill produced by a ladder gives you more choices and flexibility in the future.
In the career "game," there are two outcomes that I see quite often with job seekers:
If you build too few ladders, your choices will be limited. In other words, you could end up trapped doing the same thing. The lesson here for some of my clients was to cautiously scrutinize lateral moves; they simply often were not worth the extra money.
If you use too many ladders at once without balancing them with chutes, you may have trouble persuading hiring managers that you are relevant for their organizations. I've seen job seekers try to change too much at once; and the residual effect was that it hampered their sales pitches. I encourage clients to consider alternative two, three, four and five-year plans, so their chutes can be used to earn some ladders.  
Mentors are golden "cheats"
With this up and down nature of job search and career management, a great mentor or support team can help you play Chutes and Ladders more effectively. Here are some ideas for effectively leveraging mentors:
Be clear about your goal and what you want from the relationship.
Be proactive. Ask the right questions and control the meetings.
Think about people who have been your mentors in the past; keep an open mind regarding who might fit as current mentors. Remember that you can have more than one.
It's like having a sightseeing guide if you find someone—or better yet, several—who have "been there and done that" https://acendance.com/articles/career-tips/im-over-50-and-i-got-a-job. Their experiences and related lessons can help you avoid making the same mistakes; and find shorter paths to your goals. They can also give you impartial feedback on beliefs or actions that might be limiting you. Start from your past. Go from there. Build a "board" of mentors for growth and accountability. And give back to them whenever possible. This is the gist of networking. It's also the gist of sowing what you reap. Those hard-line chutes and ladders become a lot more flexible and fun!
So, yes, careers—life—is hard and seemingly randomly unfair. People who seem to do less work get promoted. People who do great work get let go. But when you slide down a chute, there's usually a ladder close by. Keep playing.
Photo: BenHussman