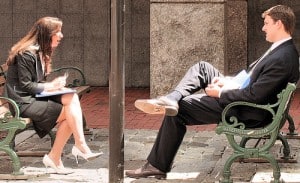 If you are in a job search or managing your career, the conversations you have will blend getting your message out with gathering workplace information. Try using this 5-step SMART approach with your general contacts – one that differs somewhat from conversations with contacts inside your target organizations.
S = Summarize your message
M = Marketing plan
A = Ask questions
R = Referrals
T = Trade information
Here's the agenda. A good average meeting time is 20 to 30 minutes. I've suggested time allowances for each part to illustrate each one's overall weight.
Summarize your message
Start with your professional goal and positioning statement. If needed, use your exit statement (why you left last employer). This gives your contacts general information. When describing your professional goal (objective), give two to three examples of positions typical of that goal. State why you believe you are qualified, mentioning your competencies. Use your success stories to support your assertions. Sharing this information will enable the person to understand you and how they can help. Keep it brief. (2 minutes)
Marketing plan
Explain your marketing plan and provide a copy of your target list. What are the key elements? You've already listed a goal, so move on to a description of your targeted industries, geographical and organizational size preferences, etc. Talk about why you've chosen these. Be ready with a list of targeted companies that meet your criteria. (3-4 minutes)
Ask questions
Ask about organizations on your target list and their concerns, problems, strengths, successes and people. Move from identifying target companies to asking questions about them, with discussion of each area. Before the meeting, list questions you'd like to ask in order to direct the conversation and collect information about target organizations, including the names of any relevant inside contacts Use open-ended questions to encourage your contact to share information. (10-15 minutes)
Referrals
Once you've asked questions and gathered information, you may specifically request referrals. Ideally, your contact has mentioned names. Now you can repeat some of those names and ask for an introduction. If no names were mentioned, ask your contact if he/she knows people who might have more information on the names of people inside any of your target organizations. Get specific names, titles and general contact information. Confirm how and when you'll approach the referrals. Preferably, try to get your contact to make the preliminary connection for you! If your contact can't think of any people for you to see, ask if you can call back in a few days to see if any have come to mind. (3-6 minutes)
Trade information
Whether or not you realize it, you come to this meeting with knowledge potentially useful to your contact. Throughout the conversation, tune in for opportunities to trade information you have for information your contact has. You may know about:
The business or industry
Other organizations
Contacts with professional groups, vendors and other resources
Names of potential candidates the company may want to recruit
Solutions other organizations have found to problems mentioned by your contact
The chance to provide useful information could come at any point in the meeting. Ask yourself "What do I know that might be useful to this contact?" If the opportunity arises, you may also offer to introduce your contact to others. (2-3 minutes)
Honor time arrangements you made with your contact. If you go beyond, the contact may well be gracious, but honestly, will be less inclined to give you referrals. Arrange any follow up. Explain that you will inform your contact of what happens in the referral meetings. End the meeting with your thanks and leave at or before the agreed upon time. In the next post, I'll share sample dialogue scripts to help you flesh out your 5-step SMART networking approach.
Photo: Search Engine People Blog's