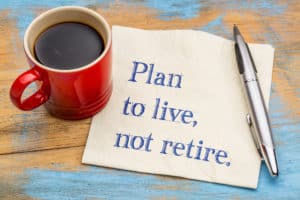 Research in the area of optimistic thinking shows that people who view setbacks as transitory and internal are able to bounce back and continue forward in their lives after experiencing an upsetting event. These are optimists. Those who see negative events as permanent and external problems over which they have no control are labeled pessimists.
Further, even a moderate level of pessimism can pull you down, affecting all major areas of your life: your health, your productivity, your work, your relationships and your feelings of self-worth. The data points to good news! Optimism is a trait comprised of a set of skills, and therefore, like all skills, it can be learned. If you are experiencing thoughts of discouragement, disappointment, frustration, feelings of failure, or inability to create a plan for yourself regarding retirement, you can learn how to challenge these negative thoughts by:
Avoiding sharing your ideas with people (including friends and family) who might discourage you or give negative feedback when you are thinking about exploring and moving out of your comfort zone into new and uncharted waters.
Listening to your inner thoughts and arguing against self-limiting and negative ideas.
Avoid Toxic People As You Bridge Into Retirement.
My client, Brenda, was discouraged and disillusioned after her job search was suddenly downsized. She realized she needed to take care of herself emotionally and psychologically by stepping out of her comfort zone and doing something completely different with her life. She thought that she would like to retire but didn't know what that looked like yet. She decided to volunteer for three months at a wellness center located in the mountains in a different state. She would be doing things she had never done before: working on unfamiliar projects, as well as learning new skills in an environment with people she had never met.
She was doing well, having faced the ending of her former work chapter, with the outlook of bridging the transition in a "neutral zone". She was in a time-out phase to explore her life in a new role and new place. She adopted the mindset of renewal and reflection. Through coaching, she also was mindful of not moving too fast through this phase before committing to new beginnings in her retirement.
When Brenda's good friend heard of her plan, she said, "I'd be very surprised if you last a week." Another family member said, "Why are you doing this? You are dodging your reality and living in a dreamland. You need to stay home, face your emotions, and do something productive with your life."
There are people who care about you, but don't understand the process of retirement transition. They may inadvertently hold you back from moving forward and exploring your dreams. These people are called toxic people. If you know this type of person, who will not be supportive of your efforts to step out of the familiar, don't share your ideas with them. They will foster negative thinking.
Avoid Self-Sabotage.
You can absolutely find a path where you are happier, more satisfied, and more engaged in life! I have witnessed clients who have unconsciously restrained their ability to be successful and happy. I have also observed clients who moved from a negative state by practicing and integrating learned optimism strategies into their daily thinking pattern.
Marlene was an example of the latter. She challenged negative thoughts and became optimistic about her future. At age 61, she was planning to retire after decades of teaching. When we started working together, she was very pessimistic about her future and was convinced that she would be unable to move into anything meaningful. She asked me, "All I know is teaching. What else would I do?"
Through our work together while she was still employed as a teacher, she learned to listen to her inner thoughts, which focused on her uncertainty about leaving a place where she had been known, valued, acknowledged and respected for many years. She realized that she was afraid of retiring because she needed a place to go each day where she felt wanted, needed, and connected. Over the course of a few months, she was able to identify transferable skills, interests and characteristics that she could apply to other environments. She kept coming back in particular, to her love of infants.
Her mindset shifted away from "I'm just a teacher" to exploration and action. She visited healthcare centers and made connections. Soon after she retired after 30 years as a teacher, she was hired as a volunteer in a suburban hospital's Natal Intensive Care Unit's Baby Cuddler Program.
Optimism is your choice as you ponder retirement. Remember that optimism can be learned!
I always love to hear from you! Please comment below.