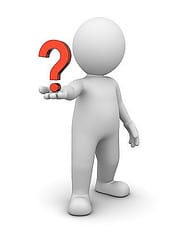 This is the third in a series of posts around the important role chemistry plays in interviewing.
I think interview is a bit like dating. Two people go out on a date because they think they might have something in common, find each other interesting or want to spend some time to get to know each other better.
If you've made it to the interview, that employer or recruiter found something about you they liked. Something told them you might fit their needs. During the interview, you'll be judged on three dimensions: chemistry, competency and compensation. Chemistry comes first most often; it is your bonding and connection.
Weaving good questions, laser listening and appropriate responses can help keep that connection on the right foot.
Interview Chemistry: Make questioning part of your strategy
Interviews, particularly executive interviews, can run between an hour and an hour-and-a-half. Considering that the process can involve this amount of time, it's important that you are not answering questions most of the time. This can put you on defensive and quickly turn stressful. Your answers to questions should never run more than two minutes. Ideally, try to ask questions for 30 minutes of every interview. This enables you to assert some control over the pace and direction of the session; and it reduces the interview pressure.
The way you ask questions and the specific nature of their content will tell a lot about you. A questioning strategy developed in advance can be helpful. Most importantly, by asking intelligent and insightful questions, you will build your image in the eyes of the interviewer—and you will be building chemistry as well. You want the interviewer thinking, "Certainly, Greg seems very sharp, well informed … impressive."
Questions you the candidate asks can be called "offense questions" as opposed to "defense questions" when fielding answers. The questions you develop will depend on the kind of position you are targeting. Here are some examples:
Does the COO have strongly held convictions about the approach needed to meet your goals in this area?
How important is it to get IT and Operations to work more closely together?
Do you feel you have a strong team in place, or will you expect me to recruit my own team?
It's obvious that you need to build new capabilities to achieve your goals. Would I be given a free hand to do that, or would that cause political problems?
Is top management unanimous on the need to develop new lines quickly, or are there strong differences of opinion that will need to be taken into consideration?
Given the fact that you are #2 in your major market right now, what are the expectations and timetable for improving your future?
The point is that the questions, from the perspective of the interviewer, will get right to the heart of what is going on in the organization. The questions should be tailored to your situation. Visit Part 1 and Part 2 of this series if you missed them.
Do you have comments to share around good questions the job interviewee/candidate can ask?
There is no such thing as a worthless conversation, provided you know what to listen for. And questions are the breath of life for a conversation." ~ James Nathan Miller
Photo:  SMJJP