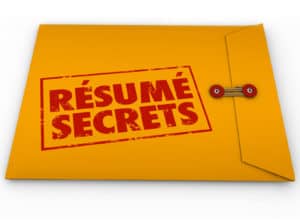 Many folks have great expectations of their resumes. And indeed, a good resume is a must-have tool in your job-search toolkit!
That said, the main thing to keep in mind about a resume is what it doesn't do. Regardless of how elegantly it's designed, or how brilliantly it's written, a resume in and of itself isn't going to induce anyone to stop what he or she is doing, jump up and down, and say, "This is the person I absolutely want to hire!" That's not what the resume was meant to do.
What a resume is meant to do, is to get you past the initial screening so that you have an opportunity to be interviewed by someone who has the power to hire you.
Not that getting past this screening is easy to do. A typical posting for an attractive job opening in any major city can draw hundreds if not thousands of responses, each one containing a resume. Someone – not necessarily the person who does the actual hiring – must go through that vast mountain of résumés and select from it those candidates who mostly closely meet the basic qualifications of the position. The higher the mountain of resumes, the less time the person is likely to spend on each one. And today, applicant tracking systems complicate your chances if that resume is not tailored to the position.
How screening works.
Here's what happens. People who screen resumes typically do so by dividing them into different groupings. These groupings are based roughly on whether a candidate is considered a "definite" (someone who clearly deserves to be interviewed), a "possible" (someone who might be worth an interview), or a "definitely not" (someone whose background is clearly wrong for the job in question). The time a screener spends on each resume at this initial stage is often very brief – only a handful of seconds for each resume. Whether that resume makes it to the "definite" pile or the "definitely not" pile depends on the specific criteria the screener is looking for.
That's where things get challenging for your resume. The more resumes a screener has to go through, the more specific become the criteria used to differentiate the "definites" from the "possibles" from the "definitely nots". In a nutshell, this is why developing more than one resume frequently makes strategic sense. The more targeted your resume is to a particular job or company, the more likely the resume will make a favorable impression on the screener.
What employers look for in resumes.
Research shows that other than skills and experience, other factors important to employers and hiring managers (in order of preference) is
Growth in responsibility
Stability
Other or don't know.
Adopt a cautionary mindset.
Something to keep in mind is that the people who screen resumes are usually more inclined to rule out people than they are to keep adding to the "definite" list – especially when the pile of "definites" begins to mount. So, little things like typos and misspellings can often keep you out of the running, even though these little things may have nothing whatsoever to do with your ability to handle the job for which you're applying.
Keep in mind too, that the process of putting together a resume is often as valuable to you as the result of that process. The story you tell in that resume is a story you're going to have to tell – and tell persuasively – to many people in many different situations. The more familiar and comfortable you are with that story and the more confident you are that it accurately reflects who you are what you can offer, the easier it will be to tell the story in any number of different situations.
I always love to hear from you! Please comment below.