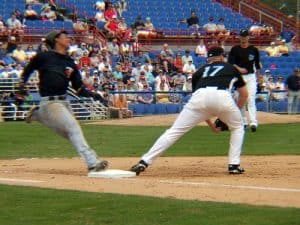 Today's hiring world is certainly not simple. If you haven't applied to jobs in some time, it's a different ball game. And speaking of ball games, ever wonder why you apply to openings and hear nothing back? It may be that you're out before you get to first base. You may be absolutely qualified for the position. But for a number of potential reasons, you might have not passed the ATS prescreening.
It's complicated
Narrowing down a large field of job applicants to one person is a complex process that recruiters and human resource professionals deal with daily. There are numerous vendors providing Applicant Tracking Systems (ATS) to help them sift and sort through what might be hundreds of candidates. No longer is it just large companies or organizations. It's an approach used by the job boards, the small business owner and – well, most hiring these days.
You may well know this. You may well realize the importance of keywords in your resume. But is it enough? A couple months ago, I attended a webinar by Jonathan Ciampi. It was more than informative; it was an eye opener. And keep in mind that the "class" was comprised of career professionals. Jonathan, a former executive with an ATS company, spoke about how ATS works and its implications for your resume's success in making it past the first-step prescreening – first base.
ATS optimization tips
Yes, it's a bit complicated. I still write pretty resumes for clients. I often use color, charts, even a graphic occasionally. I create Word, PDF and Text versions. This gives my clients a dashboard of documents. The key is in strategy. Picking the right document for the right occasion. It often involves taking the master and tweaking for the situation. I'm not an advocate of a one-size-fits-all resume – either in content or format. Based on the ATS webinar with Jonathan, here are some takeaways on optimizing your resume in an ATS situation.
Contact Information. Don't put it in the Header and Footer sections. Put content at the top of page one. Include both home and mobile phone numbers if you have them.
Format. Your resume may be gorgeous and creative. That's great for an interview or networking situation. Don't submit a highly-formatted resume electronically. It can be confusing, because many sites will tell you to upload a Word resume. They increasingly take a PDF (they honestly don't want your phone calls should you not have Word). But here's what often happens. Many ATS will scramble charts, tables and graphics. They often jumble a PDF, fragmenting it so that it's iffy whether the most important information appears where you want it to be! Your beautiful resume has backfired on you. Save your resume to a .txt (ASCII) file and submit this version to ensure that your resume will be seen in its entirety.
Headings. Most ATS will only recognize common headings: Professional Experience or Work Experience, Education and sometimes Professional Summary. Avoid creative titles like "Career Highlights" or even "Education & Training".
Sections. Extra sections that don't have recognizable titles listed in #3, will probably not be stored. So, if you have volunteer and paid experience, include it all under one major heading. If you have publications, professional development, memberships, etc., I suggest you place it under either an Education or Experience section.
Abbreviations and Acronyms. Don't assume these can stand alone. Include the complete name or phrase. For example, don't just use OEM for "Original Equipment Manufacturer." Include both. The ATS simply may not process business or technical acronyms correctly. Why take the risk?
Method.  If you have the option, upload your resume rather than pasting it online. The odds of your format remaining intact are better.
Keywords. It's not enough to include common keywords for your industry, function, position or even the job posting. And this next one was a light-bulb moment for me. Many ATS will identify as keywords the rare, unique-to-the job-posting words or phrases in the job ad. This practice significantly reduces the number of resumes pulled for consideration by the hiring person.  Jonathan suggests underlining keywords that you identify as industry keywords. Then doing a second pass through the job ad to spot and note keywords (or phrases) more unique to that position. It's often the rarity of the word that garners the higher ranking.
Keyword Strategy. And it's good to remember that the more current ATS recognizes words in appropriate context within a sentence or group of words, i.e. "sales, sell, sold." Don't just plunk a keyword section down and leave it at that. Mine the job posting to find those you should use throughout your resume. Yes, you may have to tweak. And to cover your bases, you can still use a keyword list at the top under Summary or at the end under Education.
Job Description. The ATS software searches job descriptions. Although metrics-driven successes are still important, this means there's a shift to put back in the job descriptions we took out as dry. Oh, the times they keep a changing!
How You Know. Include how you heard about the job. It could make a difference. ATS often rank some sources more highly than others – such as employee referrals over job boards.
More reality
First, some good news. While I still advocate brevity for the master "pretty" resume – and even a suite of shorter documents – in the scenario of submitting your resume in .text to an ATS, go ahead and go longer. Add in more job description or rare words that will rank you. The computer could care less about length.
You're proud of your resume. It's beautiful in content and appearance. Unfortunately, it's often not seen by the human eye at first base. The resume you submit to organizations is going to be mined for data and then correlated to fields on a form. This is what the HR or recruiter folks see. Not your resume. The truth is, your resume may only be seen during an interview. To make it to second base – and hopefully to a home run, you have to play within the parameters of today's ATS hiring world.