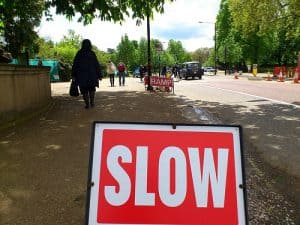 One of the frustrations my clients vent about as jobseekers is what sometimes seems to be a snail's pace hiring process, why is the hiring process so slow? You get a first interview. Then, you wait. Or you zip through two and feel you're near the finish line. And you wait.
Clients often ask me how long they should expect to wait. My answer: It depends. There are so many variables affecting the hiring scenario. Even my recruiter colleagues would tell you this is a question without a clear answer, because expectations can be set; then things change, and more often than one might think.
I put it back to my clients to build this question into their interview, negotiations or conversations with a potential employer. It is absolutely appropriate to ask, "What are the next steps in your process? How long do you anticipate it taking?"
Then take the response from this hiring authority (recruiter, human resources, boss, decision-maker, search committee member) as a statement of hopeful intent. Remember; they want to fill the position with a great-fit candidate, just as much as you want to be that candidate of choice.
Here are some the things that can happen in any hiring scenario that can put a snag in the timeline you expected or were hoping for:
Absentees. Key people might be on vacation, sick, not in action. They are not in the office; not accessible.
Money. The budget for this position has not been formally approved by Finance or Accounting. The process is orchestrated slowly but surely, in the hopes that the stars of time will align with the selection and the funds to go forward.
Workload. The recruiter or human resources generalist has 30 to 40 openings waiting for action. Wishing and hoping will not speed things up.
Timing. The major decision-makers are busy, or have conflicting schedules preventing getting together to talk about the candidates.
Privacy. The information about this position is confidential. The players are treading cautiously through the hiring activity.
Equity. They told you that you were at the top of their list. It was true. But they have 5 or 15 others to interview. They have to carry out a fair process.
Reluctance. You're not their favorite. But they don't know how it will go with their top or top several candidates. So they're keeping you on hold till that plays out.
Where's your power?
Obviously there are those things above you cannot control. But you can control the interview on your end. Be armed with good questions. Show that you've done your research on the company. Act as though you're excited about the opportunity. Ask for the job. Say thank-you. Follow up with emails. Keep stamps and note cards on hand and snail mail thank-you notes. Pull out matters discussed that you've thought about and have ideas about. And if you think you're at the top of their wish list – and you are being courted elsewhere, tell them that!  Tell them that you really want their company, this job, but that … well, you get the gist.
No, don't bombard them. But be assertively persistent and respectful. You might be amazed at the results! And yes, you may need to be patient!
Photo: David Lombardia