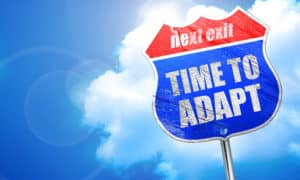 Originally people were hired for their ability to do the job. Then there was flexibility – those who moved to find work in newly established factories and offices. As work changed, we had sociability, with focus on teams and communications. Unsurprisingly, employers moved to selecting talent with the best work attributes, and then monitoring them to improve their performance. This led to the development of measures of skill and intelligence (or IQ), and then social skills and emotional intelligence (EQ).
Meet adaptability quotient (AQ).
In the late 1990s, Daniel Goleman led the emotional intelligence boom, touted as the "people-side" of smart; and one of the most influential paradigms of the decade. We now have a triangle to include IQ, EQ, and AQ.
AQ is becoming increasingly important as more leaders talk about the constant change their organizations and industries are experiencing. Disruptive technologies add to the mix. As with IQ and EQ, Adaptability Quotient (AQ) can be developed to embrace and work with change.
The 3 quotients defined:
Intelligence Quotient or IQ: The intelligence, knowledge, and facts that one has.
Emotion Quotient or EQ: The emotional understanding one has of oneself and others to help with differing situations and people.
Adaptability Quotient or AQ: The ability to adapt to and thrive in an environment of change.
Why does AQ matter?
The behaviors we have honed for decades will be challenged as obsolete. The global intimacy of the workplace is a factor. Key also is that technology is changing at an exponential rate, forcing us to learn at a faster pace than ever before. Work vision, goals, strategies, action, structure and hierarchy may vastly differ from one year to the next.
A current model for AQ.
While there is a plethora of information on IQ and EQ, developing models and measurements for AQ are still in play. The authors of The Oz Principle created a 4-step model for developing AQ.
See it. Acknowledge change is needed. One must obtain the perspective of others by asking questions about the change needed, along with welcoming positive and constructive feedback about the change's impact. Some may not want to hear the answers. It's messy, but mandatory.
Own it. Though many resist change, this behavior can cause failure when needed change is ignored. As an individual it's crucial to take accountability for overall needed change; and take commitment to push through the inevitable challenges (and failures) that will accompany the change.
Solve it. The key question while spotting solutions to facilitate adaption is, "What else can I (we) do?" It's important to note that "what else" means "think differently" as opposed to "do more." The question is powerful because it disrupts siloes between teams, motivates innovative solutions, and helps assess risks.
Do it. Execution is the final step and encompasses follow-through and accountability to your team. Transparency and trust are key in this phase of championing change.
Where are we headed with AQ?
According to the literature out there, we are likely to see three things happen in the workplace relative to AQ:
As a society, we will agree that adaptability is an important indicator of future success. We will also agree that a metric to measure it is needed – not fleshed out at this writing.
We will find new ways to both test our AQ and improve it over time.
A large industry will emerge to increase our AQ – from pharmaceuticals and manufacturing, to training and development, to media and games.
There are those who predict that IQ and EQ will take a back seat to AQ, which will become the primary indicator of success, tied to how we're able to keep up with constant change. It's going to be applicable to job search and career management. I would argue it already is a key factor.
I always love to hear from you! Please feel free to comment below.