email cover letters are not just for executives; they are appropriate for every job seeker and every company recipient in this world bombarded by tweets, emails and information from all directions.  email cover letters have two common characteristics: they are short; and they have influence.
Communication has evolved over the years due to technological and other changes in our society.  How we write letters is a great example.  In the mid 1900s, letters got shorter and less long-winded, however still tended to be very detailed.
In the second decade of the 21st century, today's six-figure executive is likely to email his/her materials to the board, search committee, hiring director or recruiter. Typically, it will be a resume and a very brief letter—as short as a few sentences—highlighting only a select notable successes. Details are few. The point is to whet the reader's appetite to take the next step. The other point is that people are busy, and appreciate cut-to-the-chase documents.
email Cover Letter: Characteristics
There are several characteristics of an email cover letter:
Brevity
To-the-point approach and manner
Written in brief paragraphs or a bullet-style format
Typically written to an advertised opening or to either a networking or recruiter contact
Like other ad-response letters, email cover letters must highlight the specific qualifications, experiences, skills and successes you offer as they relate to the position. The challenge is to do this quickly! Immediately present them, and then ask for the interview! In a networking electronic letter, you have a bit more flexibility because you're writing at the suggestion of a referral. However, these recipients are busy too. Keep it simple. Tell the reader just enough: who you are, why you are writing and what to expect (phone call is the most likely).
email Cover Letter: Tips
Use the e-mail subject line to tell recipients your reason for contacting them, and lessen the chances of being ignored or deleted. If you're applying to an opening, state that position in the subject line. If you're writing to a networking contact, list who referred you in the subject line.
Do not include the recipient's full mailing address as you would in a "paper" cover letter. Use only the salutation line, i.e. "Dear Mr. Jones".
As with any other ad-response letters, make sure you address requests for information stated in the posting, i.e. salary requirements, ability to relocate, technology skills, citizenship status, etc.
email Cover Letter:  Sample Ad-Response Electronic Letter to a Company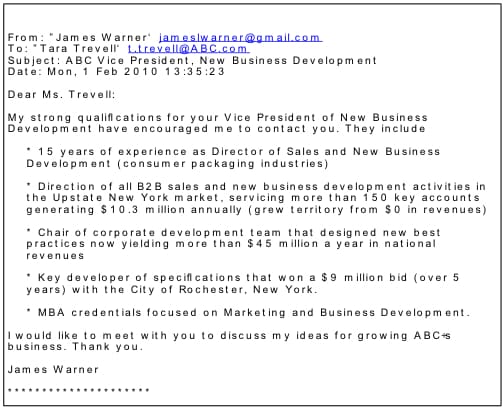 email Cover Letter:  Sample Network-Contact Electronic Letter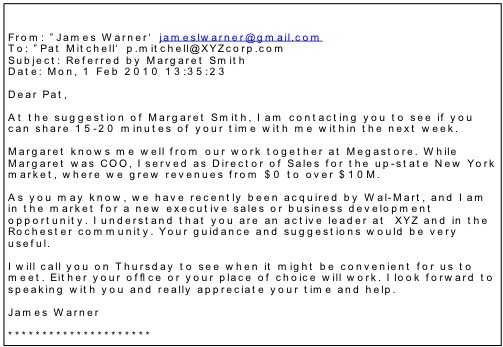 Cover Letters: More Tips
More Cover Letter Tips . . .