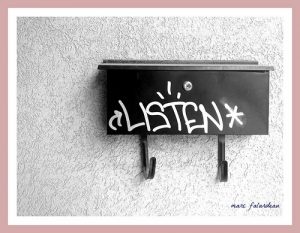 In my last post I spoke of the importance of enlisting helper bees in your job search. These are the people who very likely move on the inside track of your target scenario. They know the field, the industry, a particular company, key players and so forth. I talked about how you can connect with them and get them on board to help if they can.
In the real world, there are those people whom you reach out to and don't reach back. There can be a myriad of reasons. They're irrelevant for our purposes here. The point is to artfully reach out to them (again). And you don't even have to speak to them!
Email and ask them to help by listening for news.
If one of your potential helper bee contacts has consistently ignored your attempts to connect, try this.
Send them a special letter. You decide the vehicle. It could be a LinkedIn message, email, or even snail mail. Use your discretion based on the relationship with that person. Here's an example:
"George, this is Jason Parker. I've been trying to contact you for a couple weeks, and we just haven't been able to connect. What I wanted to touch base with you about was this: You are very active in wind energy development. You know the field and many of the people. And they know you. I've honed my job search to a very specific opportunity, and I'm hoping you'll keep your ears open on my behalf.
Here's my proposal: If you've heard anything that would be helpful for me to know, please take a minute and take or return my contact. If you haven't heard anything that would be useful to me, no pressure. Feel free to not return the email. I then won't be uncomfortable dropping you a message every ten days or so, as my search continues. I hope you'll agree that this is a minimally invasive way for you to help me and a hiring decision-maker searching for someone like me.
[Hint: be very specific]
I'm after a senior-level Electrical Engineer position with a management consulting engineering firm engaged in  wind energy development of wind facilities with a national pipeline; and likely involved in executing financing in wind and conventional energy. I would be seeking to lead projects around wind energy electrical design and most likely, with transmission interconnection. My sweet spot  is removing roadblocks to enable the construction of the plants. I'm willing to relocate anywhere in the U.S. or internationally, to get such a position.
So, in the course of your day-to-day business, if you hear about anyone considering a similar hire, please let me know and I'll take it from there.
If this is okay with you, simply keep me in mind for the potential opportunity above. If this is not okay with you, just reply by email, text, phone, LinkedIn—whatever is best for you. Let me know that this is not something you wish to participate in.. I respect your feelings and that will be the end of it.
And regardless of your feelings about my proposal, if there is ever anything I can do to help you, now or in the future, please don't hesitate to ask me.
Jason Parker
So, okay, now you've set the letter up and sent it. Now, you put this person on your calendar for tickle emails every ten days. Those emails can go like this:
George, this is Jason Parker, touching base to see if you've heard about anyone looking for a wind energy electrical engineer. If you've heard something, please drop me an email and, as before, if you haven't heard anything, just ignore this message. I'll reach out again in ten days. Thanks so much!"
Then, persistently send that tickle email without fail. There are only two reasons to stop; either you're asked to stop by the contact, or this approach has generated a lead—even an offer!
Photo: marc falardeau